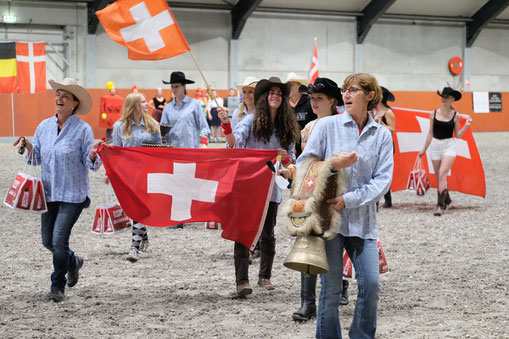 Die Eröffnungsfeier des FEQHA European Amateur & Youth Cups 2019 stand unter dem Motto " Präsentation des eigenen Landes und der  einzelnen Teammitglieder".
Zur musikalische Vorstellung der Schweiz wurde ein Bogen von der Nationalhyme über einen modernen Chartsong zurück zu traditionellen Klängen aus der Ostschweiz (Appenzell und Toggenburg) beim Talerschwingen gespannt.
Entsprechend war auch die Bekleidung der Mitwirkenden von Edelweisshemden über Reiter-Outfit bis hin zu "Tussy-Klamotten" ausgewählt. 
Leider machte uns das (Des-)Organisationsteam des Veranstalters einen Strich durch die einstudierte Choreographie - unsere Musikdatei war nicht auffindbar. So mussten wir improvisieren und das "Talerschwingen" live vorführen.
Die Vorstellung des Jugend- und Amateurteams wurde von Marleen vorgenommen:
Hello everyone,
Hope all is well. We are very proud to present you the Swiss Team for this year Euro Cup 2019,
Youths are comprised of
Tatjana SIDLER and Dual Springtime
Anna HAERRY and Pride Sugar Chic
Jessica SPYCHER and GC Impression of Love
Marleen EBERT and Rhythm'N'Blues
Our coach is Yolanda FACCHIN and our Trainer is Elif SCHLEINIGER
The Amateur Team is comprised of
Irene LEDER with Im A Golden Nic
Renata BUCHER and Little Gin Whiz
Chantale WELLAUER and Grand Revolution
Coach is Chantale WELLAUER
For information, our music is a mix of the Swiss National Anthem followed by an actual hit-song and the "Talerschwingen". Talerschwingen is a typical local Swiss percussion instrument.
Typical of the region of Appenzell and Toggenburg in eastern Switzerland, it's name comes from Taler which was an old coin (ECU) from Germany. Schwingen means to move, agitate or oscillate in German.
In the old times, it consisted of three cooking utensils, milk jugs of different sizes, diverted from their original function. The last to shape them was a Welsh potter.
With time, the milk jugs became one big ceramic bowl or jug, in which a coin (preferably 5 Swiss Francs) is tossed in it in a slow rotation. The sound produced is reminiscent of the sound of cow bells in the Alps. Until today, this type of instrument is used to accompany the Yodel.
The Youth and Amateur Swiss Teams are very proud to be here in Holland to represent Switzerland. The perspective of meeting all other competitors from different European countries is very challenging and stimulating.
Thanks to all the organisations (AQHA, it's affiliates and of course our hosts in Holland) for such a great opportunity to do what we all ultimately love: RIDE RIDE and RIDE:
Thank you, and all the best to the teams participating.
Saddle up and enjoy the ride.
Impressionen von der Eröffnungsfeier:
1. Reihe: Teams Deutschland, Luxemburg, Italien
2. Reihe: Teams Dänemark und Schweiz
3. Reihe: Präsentation Team Schweiz durch Marleen
4. Reihe: Talerschwingen
5. Reihe: Auszug aus der Arena und Verteilung unserer Gastgeschenke aus der Ostschweiz - Appenzeller Bärli Biber und Kägi Toggenburger Butterbiscuit