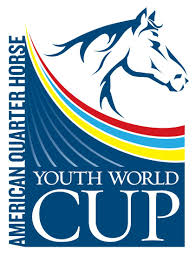 Nach dem FEQHA European Youth Cup 2019 ist bekanntlich vor dem AQHA Youth World Cup 2020. Unter www.ywc2020.com könnt ihr alle wichtigen Informationen zu unserem nächsten Ziel heraussehen. Der YWC 2020 ist vom Freitag 3.7. bis Sonntag 12.7.20 geplant.  
"The American Quarter Horse Youth World Cup is an educational, leadership-based event involving youth from 19 countries. The international teams have the opportunity to participate in equestrian clinics, leadership seminars and first class competition.
It is a unique opportunity for youth to learn and develop their equestrian skills in a hands-on-setting. Over 180 youth members will be participating in the YWC and they will be supported by families and friends from their countries.
We are anticipating over 400 International visitors will be exposed to your sponsorship. The YWC will have a live web broadcast for a worldwide exposure, as well as coverage from local newspapers and publications and national equestrian publications."
Infos zum Austragungsort und Ablauf des YWC 2020
Newsletter-07-2019.pdf
Adobe Acrobat Dokument
1.1 MB
Reglement zum AQHA Youth World Cup 2020
Rules2020.pdf
Adobe Acrobat Dokument
701.3 KB